Welcome To La Barre
La Barre Olives was created by Charles de la Barre de Nanteuil to establish an olive grove at his family farm of Hardwicke Stud, Yass. Charles' rural tradition in France, Italy and Australia meant that olives are part of his life's blood. The aim was to produce a beautiful olive grove so as to make an excellent and fresh Australian olive oil for the local market.
At the time there was little knowledge about olives in Australia, so Charles was very fortunate to have the opportunity to undertake an intensive course with the world famous Professor Giuseppe Fontanaza of Italian Institute of Olive Production at Perugia. The focus of the institute was to modernize the industry in order to maximize production while maintaining quality of the olive oil.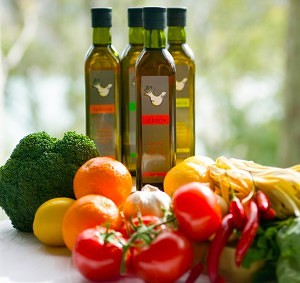 Two Groves One Objective
La Barre is in the fortunate position to produce olives on two farms with very different climates and growing conditions. The different locations produce olives with a great variety of attributes and thereby gives La Barre the opportunity to produce Australian olive oils with specific qualities and flavours, and of equal importance create a consistently high quality product from year to year.
Hardwicke Grove was established in 1999 and is located in the emerging cool climate wine country of Yass and Murrubateman. The grove was planted down to Frantoio, Leccino, 1-77, Boutillion, and Lecquere. The region is well known for its cold winters and pleasant warm summers similar to areas in Tuscany. These conditions create oils with intense and robust flavours.
Sterling Olive Grove and Cowra Olive Grove were established at Billimari in central west New South Wales. Billimari is also becoming a well known viticultural area producing area.. Olives. Among the 30,000 trees planted were the varieties Frantoio, Leccino, Pendolino, Coratina, FS 17, Piccholine, Koraniki, Picual and Arbequina. The Professor Fontanazza identified this region as being very similar to central Sicily an area famous throughout history for making some of the best oils in the world. Oils from Billimari tend to be sweeter and intense fresh frangrances.
Processing Plant
La Barre was instrumental in establishing Billimari Olive Processing plant to convert the olives into oil. The processing plant was established in 2005 on farm and is now one of the biggest facilities in New South Wales.
The Pieralisi processing plant comes from Italy and represents the latest technology in olive oil extraction. Less romantic that the old stone mill and matt press, the new stainless steel plant produces a consistently higher quality oil.
La Barre's philosophy in processing is based on the concept that 'less is more'. Olive oil is a fruit juice, so the fresher and less affected by the process it is the better the quality. Fruit is harvested just before it is ripe by La Barre's Olive harvester and transferred to the plant where it is processed within 15 hours. Great care is taken to make sure that the fruit is not bruised, pressed down or overheated while waiting to be processed.
The fruit after being graded is then washed, in potable water, crushed and slowly mixed in a paddle mixer for 25 – 40 minutes depending on the variety. The paste is then passed through a centrifuge to separate the solids and water from the oil. A final high speed separator removes any final impurities. The whole process takes approximate 1 hour from olive to consumable Australian olive oil.
Each variety has different characteristics. The blender formulates the type of oil he or she desires and then blends the different variety of oils together to produce the desired result. With time all oils mellow. Therefore by storing and packaging La Barre can make small modifications to the blend in order to maintain a constant product.
The People
Much of the quality of the Australian olive oil is derived from the effective maintenance of the grove. Nick Perkins has been involved with La Barre from the planting of the first tree. His incredible attention to detail and passion for the product greatly contributes to overall success of the olive oil we produce. He is ably supported by a collection of characters.

escription