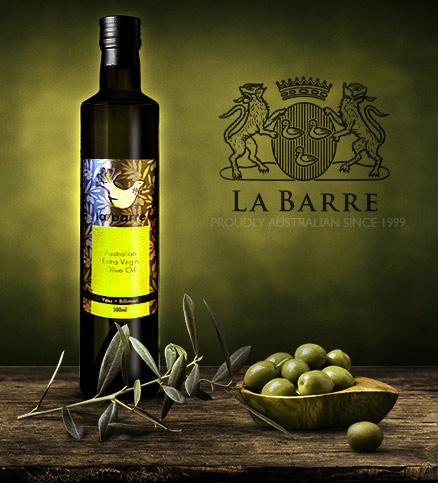 Extra Virgin Olive Oil 500ml Bottle
January 10, 2013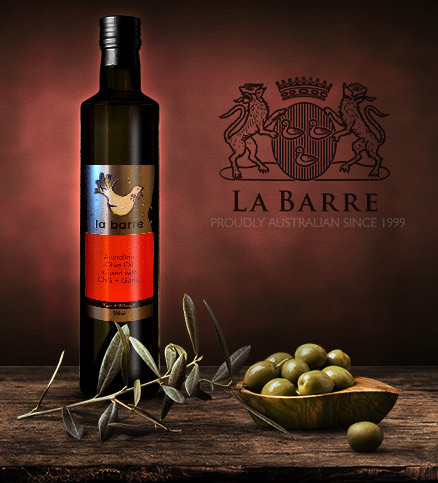 Chilli and Garlic Infused Olive Oil 500ml Bottle
January 10, 2013
Rosemary and Garlic Infused Olive Oil 500ml Bottle
$17.00
The best culinary creations start with the right ingredients and for many dishes that means having the right oil to complement flavours. La Barre rosemary and garlic infused olive oil will add individuality and sumptuous flavours to even the simplest of dishes and help you to become the perfect chef at home. Our product is perfect for the traditional potato salad, and is truly delicious on roast vegetables. Our rosemary and garlic infused olive oil can also be used to create tasty dips or grilled vegetables at barbeques. Try it with olives, grissini and prosciutto as a starter.
Description
La Barre has infused the wonderful flavours of rosemary and garlic in a high quality Australian olive oil and is a must have addition to any kitchen pantry. It is sure to delight your palate and take your dishes to a whole new level.
Serving Suggestion
Baste it on roasts especially lamb and pork, drizzle it on steaks and other barbeque meats for enhanced taste. Get creative and try it on a number of family favourites, create the perfect chips or try out some of our delicious recipes and impress your family, friends and customers.
Bon appetite!
Additional information
| | |
| --- | --- |
| Size | 250ml Bottle, 500ml Bottle |